Big Law Says Goodbye to Five-Day In-Office Work Weeks
Leaders from Big Law firms share return to office plans for their firms, and their thoughts on when working in person is essential for lawyers and when it is not.
Biden's Vaccine Mandate and the Likely Legal Challenge
Covid-19 Vaccine: Can Your Employer Make You Take It?
Covid 'Long-Haulers' and Their Lingering Medical Bills
Can Businesses Win Fight Over Covid-19 Insurance Claims?
Telehealth Is Booming During Covid. Is it Here to Stay?
Coronavirus Is Taking Its Toll On Big Law
Coronavirus and Force Majeure Clauses
Coronavirus and the Ballot Box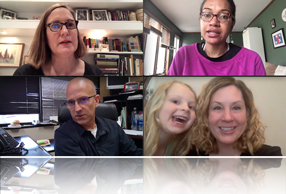 Coronavirus Is Changing the Way Lawyers Work
Can Employers Ask Candidates About Vaccination Status?
Rare Vaccine Arguments Kick Off New Supreme Court Year